America in context
Multicultural Literature in the United States Today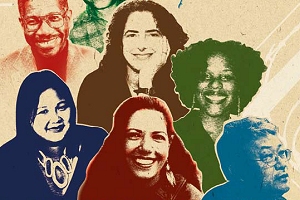 The United States is enriched culturally by immigrants from many nations. This edition of eJournal USA focuses on distinguished American writers from various ethnic backgrounds who add immeasurably to mutual understanding and appreciation through tales of their native lands and their experiences as Americans.

For 500 years immigrants from diverse cultures have sought freedom and opportunity in what is now the United States of America. The writers among them recorded their experiences in letters, journals, poems and books, from early colonial days to the present. "We are a nation of many voices," writes Marie Arana in her essay, and that is what this eJournal USA on multicultural writing is about: to show how voices from various ethnic backgrounds have enriched American society through art and cultural sharing that invites understanding.
Newcomers may write of loneliness, like the anonymous Chinese immigrant to the "land of the Flowery Flag" who scratched a wistful poem on a barracks wall at the Angel Island Immigration Station near San Francisco, in the early 20th century:
The west wind ruffles my thin gauze clothing.
On the hill sits a tall building with a room of wooden planks.
I wish I could travel on a cloud far away, reunite with my wife and son.
Challenges are inevitable as immigrants adjust to life in a new country, with a new language, and as their new neighbors become acquainted with them. The articles in this journal examine that process of mutual assimilation and the interactions that broaden perspectives, regardless of ethnic heritage.
Ha Jin, Immaculee Ilibargiza, and Lara Vapnyar are relatively new immigrants who choose English — their second language — in which to write about their mother countries and the country that is their new home. Ofelia Zepeda and Susan Power, descendants of indigenous American nations, draw on ancient traditions of their tribes.
Gerald Early — writing on "What is African-American Literature?" — taps hundreds of years of creativity, which evolved through slavery and the civil rights movement to the current, popular Hip Hop Fiction. Early argues that "urban literature has democratized and broadened the reach and content of African-American literature." African-American writers Tayari Jones and Randall Kenan, call on their firm roots in the American South for the special regional flavor in their work.
Akhil Sharma writes of how his bicultural life and Ernest Hemingway helped shape his writing. "Because this wave of Asian immigrants has created curiosity within American society as to what exactly it is like to be in Asian families, I have been lucky to have had my books read," he writes. Persis Karim and Diana Abu-Jaber, half Iranian and Arab, respectively, recall coming to terms with two cultures in their own families, while Jennifer 8. Lee describes American assimilation of cultures as a story wrapped in a fortune cookie. These and other contributors write about the ways they belong to America while they retain the uniqueness of their original heritages.
More than ever, Americans want to participate in the multicultural experience, whether it is through appreciation of music, art or sampling ethnic food — and along the way forming friendships with the Arab, Korean or Guatemalan restaurateur. Often they simply immerse themselves in vibrant cultures depicted between the covers of a book.
— The Editors

View PDF (1.14 MB)
Recently on America in context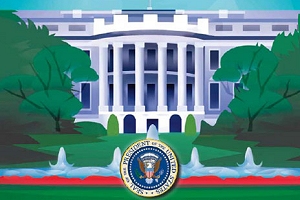 We often read or hear about turmoil before, during, or after elections around the world. An important characteristic of democracy in the United States, however, is the regularly recurring peaceful transfer of power from one president to the next. Americans know when the next presidential election will take place — the Tuesday after the first Monday in November every four years. And power will be transferred to the newly elected (or re-elected) president on January 20 of the following year.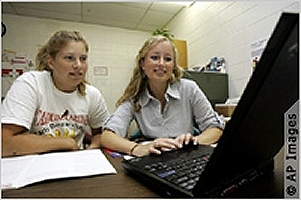 Meet some young Americans who have taken time off before going on to graduate education or embarking on a career to help students from low-income families get a higher education.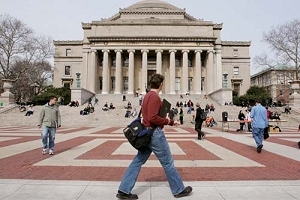 The number of non-U.S. students enrolled in U.S. higher education institutions during the 2007-2008 academic year jumped 7 percent to a record total of 623,805, according to a report from the Institute of International Education (IIE). First-time enrollments increased 10 percent in 2007-2008, following a similar 10 percent rise the previous year.

---