Student corner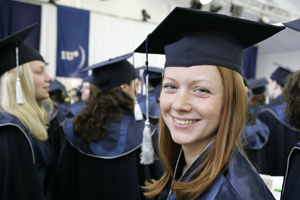 Why Study in the United States?
Here are just a few of the reasons why more than 500,000 international students from around the world are furthering their education in the United States:
Quality: U.S. colleges are known worldwide for the quality of their facilities, resources, and faculty. Accreditation systems ensure that institutions continue to maintain these standards.
Choice: The U.S. education system is unrivalled worldwide in the choice it offers of types of institutions, academic and social environments, entry requirements, degree programs, and subjects in which you can specialize.
Value: As an investment in your future, a U.S. degree offers excellent value for the money. A wide range of tuition fees and living costs, plus some financial help from colleges, have made study in the United States affordable for thousands of students before you.
Flexibility: One of the most distinctive features of U.S. universities and colleges is the flexibility in choice of courses within a college or university, but more importantly there is also the option for students to move between one institution and another. Completing the first two years of a degree at one institution, usually a community college, and then moving to another, is very
common.
Choosing the best schools for you and preparing successful applications will require commitment and careful planning on your part, but in almost every country there are specialized advisers who understand your needs and can help you. Information and advice on study in the United States is available to you from a network of over 450 U.S. educational information and advising centers worldwide. Directories, guides, college catalogs, and admissions test information are all available at the centers, as well as trained educational advisers who want to help you and your family with the process of choosing and applying to U.S. colleges. Some centers also run events such as college fairs or seminars. Introductory information in the form of video or group presentations, Web site access, and independent resource libraries is available free of charge from information and advising centers, but payment may be required at some centers for additional services.
All U.S. educational information and advising centers are supported by the U.S. State Department, with the goal of providing objective information on the range of study opportunities available in the United States.
For Belgium and Luxembourg, please surf to the web site of the Commission for Educational Exchange Between The United States, Belgium and Luxembourg.
Good luck with your applications!
For additional information, use one of our booklets in the series "If You Want to Study in the United States". These documents are available as PDFs. If you need Adobe Acrobat to view the PDF versions, you may download the application for free.

Booklet One: Undergraduate Study (3.2MB)
Booklet Two: Graduate and Professional Study and Research (3.1MB)
Booklet Three: Short-Term Study, English Language Programs, Distance Education and Accreditation (1.1MB)
Booklet Four: Getting Ready to Go: Practical Information for Living and Studying in the United States (1.1M)
Click here to watch the video
---