America in context
American Dream Still Alive and Well for Immigrants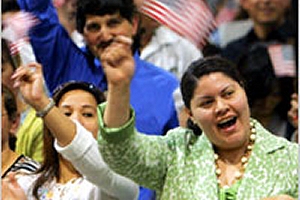 "The great story of America is that it still offers a job to first-generation immigrants and better jobs to their children" said Ron Haskins, the author of Economic Mobility of Immigrants in the United States.
Immigrants to the United States continue to find a land of opportunity both for themselves and for their children, according to a new report.
The Economic Mobility Project is an ongoing examination of the so-called American Dream, a concept that embraces social justice, social advancement and equality of opportunity.
Legal immigration to the United States has grown substantially in recent decades -- from 3.3 million per decade in the 1960s to 9.1 million in the 1990s, according to the Department of Homeland Securitys U.S. Citizenship and Immigration Services. The State Department reports that between 2000 and 2005, 3.7 million immigrants became citizens and the United States granted legal permanent residence to 5.8 million people.
Haskins did sound one note of concern: "Historically, the U.S. economy has successfully created opportunity and economic mobility for immigrant families, but the scale of recent immigration -- and especially of poorly educated immigrants -- could be cause for future concern." Educational attainment has a dramatic effect on the wages of both first-generation and second-generation immigrants, and therefore on economic mobility, the report shows.
There is not one typical immigrant, according to the report -- there are two. And an accurate portrait of new arrivals is complex: a much higher percentage of legal immigrants have advanced degrees than is true for the nonimmigrant population, but large numbers of immigrants -- particularly undocumented workers from Latin America -- have relatively low levels of education. "The U.S. economy seems to be increasingly rewarding education," said Stuart Butler, an expert on economic policy studies at the Heritage Foundation, a conservative research institute. The report concludes, however, that the economic prospects of the second generation are very much tied to their educational attainments. "Economic assimilation appears to be working well," Haskins says, but "the children of low-wage, poorly educated immigrants may well have an uphill climb to continue reaching economic parity with nonimmigrants."
The full text of Economic Mobility of Immigrants in the United Statesis available on the Web site of the Economic Mobility Project.
Immigration Seen Adding 105 Million to U.S. Population by 2060
Since the founding of the United States, its population has been growing at a rate that some scientists say is unprecedented in human history. Some believe that this population explosion made the United States one of the most prosperous countries of the world, but others point to congestion, urban sprawl, traffic, pollution, loss of open spaces and the increase in greenhouse gas emissions as negative effects of rapid population growth.
A new report projects that current levels of immigration will add 105 million to the U.S. population by 2060, while having little effect on the rise in the median age in the U.S population.
The report, 100 Million More: Projecting the Impact of Immigration on the U.S. Population, 2007 to 2060, was prepared by Steven Camarota, director of research at the Center for Immigration Studies, an independent research institute. Camarota based his projections on U.S. Census Bureau data and Census Bureau assumptions about future birth and death rates.
According to the report, about 1.6 million legal and illegal immigrants settle in the country and 350,000 people leave the United States each year, resulting in a net immigration of 1.25 million. If immigration continues at current levels, the nation's population will increase from 301 million today to 468 million in 2060 -- a 167 million (or 56 percent) increase. Future immigrants and their descendants will account for 105 million (or 63 percent) of the increase.
The report shows that even immigration has a very large impact on the size of the nations population, it has only a small effect in slowing the aging of American society. Some proponents of immigration have argued large numbers of immigrants are necessary to forestall the aging of society and a consequent imbalance between workers and retirees.
According to the report, most of the projected population increase will come from legal immigration. Illegal immigration will add 37.9 million to the U.S. population by 2060, given current trends, and legal immigration will add 67.4 million, Camarota found.
Camarota said that he believes the central question raised by his projections "is what costs and benefits come with having a much larger population and a more densely settled country." "Some see a deteriorating quality of life with a larger population, including its impact on such things as pollution, congestion, loss of open spaces, and sprawl. Others may feel that a much larger population will create more opportunities for businesses, workers and consumers."
The study is "thoroughly depressing" and "devastating" to Roy Beck, the executive director of Numbers USA, a nonprofit, nonpartisan, public policy organization that opposes current federal immigration policies. Beck is the author of The Case Against Immigration. To Ben Wattenberg, however, the projections were good news. "Birth rates around the world are going down," he said, citing shrinking populations in Europe, Eurasia and East Asia. Such population growth is the secret of U.S. dynamism, Wattenberg says, noting the contributions immigrants have made to American society and their tendency to be even more patriotic than native born Americans. The average age of a new immigrant is 29, said Wattenberg, a senior fellow at the American Enterprise Institute, a Washington policy research organization. "They're going to pay into Social Security [the U.S. federal retirement program] for 40 years before they retire." "Our secret weapon in globalization is we know how to assimilate people," Wattenberg said.
The full text of the reportis available on the Web site of the Center for Immigration Studies.
By Jeffrey Thomas
Staff Writer
Recently on America in context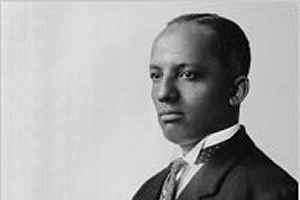 Each February, Black History Month honors the struggles and triumphs of millions of American citizens over the most devastating obstacles -- slavery, prejudice, poverty -- as well as their contributions to the nation's cultural and political life.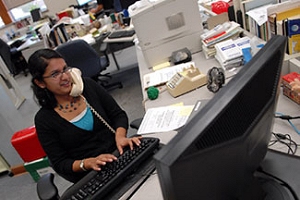 Two young Americans describe what voting means to them and their excitement about casting their first ballots.

The right to vote is one of the most basic privileges in a democracy. In the United States, any resident who is an American citizen and at least 18 years old is eligible to vote.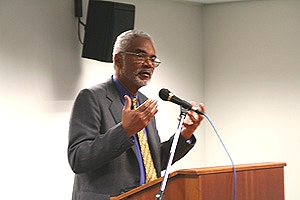 How relevant is Martin Luther King's vision in today's world of increasing ethnic and religious tension? A lecture-discussion by Dr. Clayborne Carson, professor of history and director of the King Institute at Stanford University. Brussels, November 20, 2007.
---